Customer Reviews
My customers are the most important part of this business. Whether I'm creating a mural or a custom piece of art, I want you to feel confident in hiring me and know that I'm giving you my best work. I'm extremely thankful for my clients and the beauiful words that they've written about me. Thank you!
Everything about Marnie is professional and top notch. Marnie is responsive, she shows up on time and ready to go, and she is amazingly talented. My mural looks better than I ever expected. EVER. And it's the envy of all who see it. I would totally use her again, and have already had several folks ask for her information. - Ashlie A.
Ms. marnie did an awesome job! She was professional and very easy to work with! I would hire her again!! - Evelyn M.
Words can't express how beautiful my office turned out. Marnie is the best there is. You won't regret using her! Thank you Marnie!!! I will definitely have you back to do more work for me. - Jill L.
Marnie was excellent. Perfect for me and my job. Looked one day. Started right after that. She took what I said, and mixed her ideas with mine. It was beautiful and will hire her again for my next project! - CHris S.
Marnie rocks! Not only is she fast and super talented…her attention to detail is amazing! Her mural for our restaurant will blow you away!
Kevin K.
Marnie is amazing!!! I couldn't be more happy with the way my floral nursery mural turned out. I showed her Pinterest photos of a nursery room with floral wall paper that she was able to replicate 100%! Additionally, Marnie is super professional, pleasant and punctual. I will definitely hire her again for our children's playroom. - Celina H.
Amazing artist! Easy to work with. They don't come any better. - Gail S.
SO TALENTED!! Prompt, punctual, neat, friendly, conscientious.....can't say enough things! - Rachel F.
Whenever I am in need of detailed, beautiful artwork whether it be something as simple as text or as complex as a childs fantasy wall, I always turn to Marnie. Never have I been disappointed in any element of her work. I am a designer and very picky about my work and her attention to detail and what the customer is visioning in their mind Marnie can make it come to life. Stop your search here! - Robin K.
Marnie painted a stage for us and did an amazing job. she is very creative and talented. i will hire her again! - Danielle V.
Marnie is such a talented artist and she is both professional and so personable. It is such a joy to see the mural each day! It is so beautiful and far exceeds the vision I had for the space. And…..more to go as it is not quite done! - Ruth D.
Marnie painted transom windows for us and they were absolutety fabulous! i recommend her with a great deal of enthusiasm for your projects! - Julie M.
Marnie is a very talented artist and very reliable! She did some incredible murals and signs for us. I highly recommend! - Dana Z.
She Did amazing and was super kind & professional! Highly recommend going to Marnie if you want an amazing looking personalized mural. - kayla J.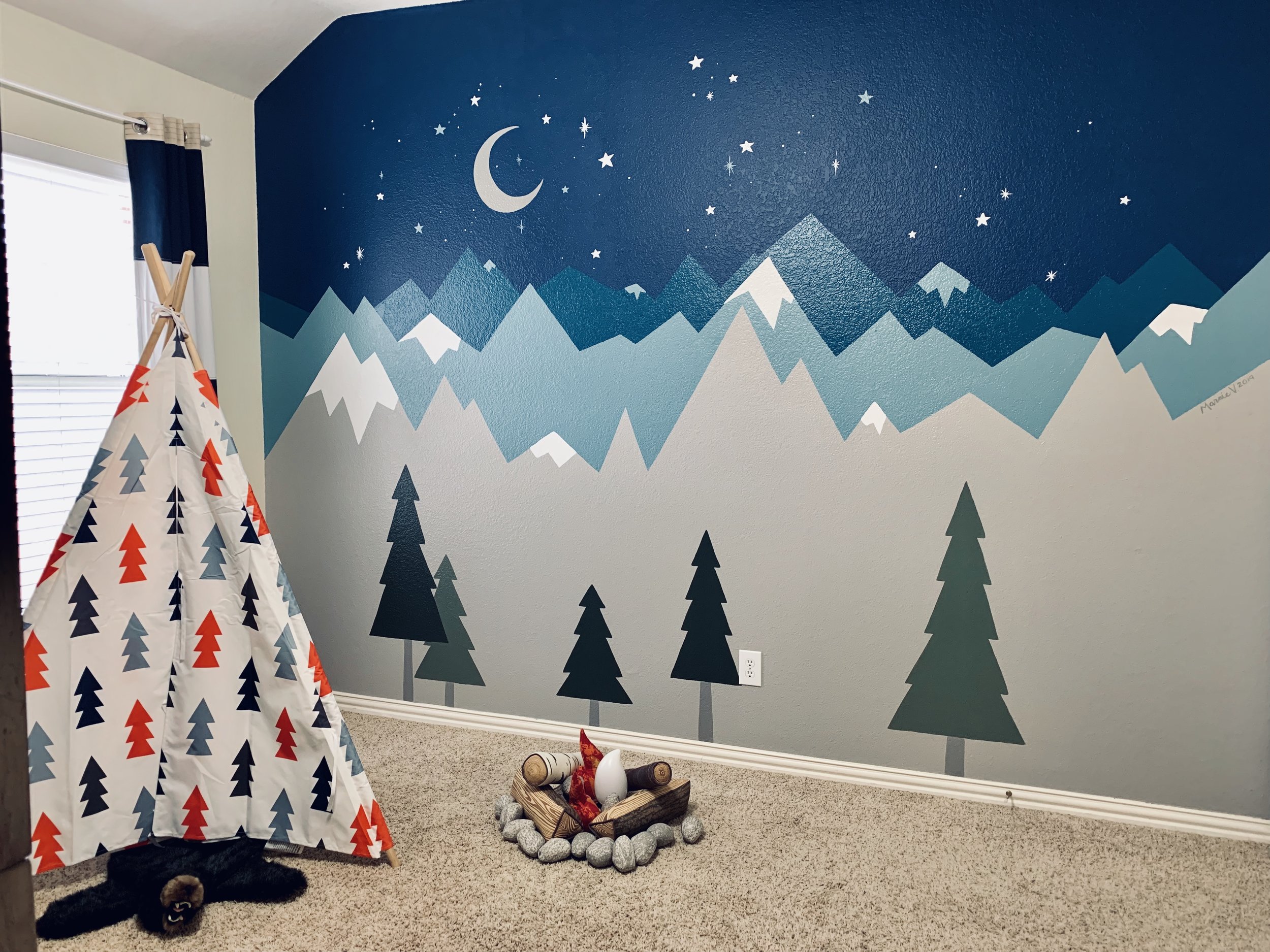 Marnie is the best! I sent her some inspiration photos and she came in and exceeded every expectation and vision I had. So glad we got to work with her and have a piece of art in our sons' bedroom. Love Love Love it! - Kristin R.
Marnie was awesome. She listened to what I wanted and made it happen on canvas!! - Georgia N.